​WHAT IS SPORTS MASSAGE?

Sports Massage is an energetic form of massage with benefits that can be felt by elite and amateur athletes alike. Sports Massage should be used as a preventative tool to keep the body healthy.

It works with the soft tissues of the body e.g. the muscles, ligaments and tendons. It is a very effective form of therapy for releasing muscle tension and restoring balance to the musculoskeletal system.

The use of Sports Massage to enhance sports training, performance, or to help the body recover from exertion is very popular within the sporting community. It generally focuses on parts of the body that is exerted during a particular sport. In order to be in peak physical condition, an athlete must work their body extremely hard. Tissue damage, injury and imbalances in the body are all potential problems that arise. The biggest risk in the quest for enhanced performance is of course injury.

Sports Massage has a great potential in this area as you can use it to prevent injury and this is why many top competitors use it as part of their training regime.With regular treatment, they are in a better position to sustain high levels of performance without getting injured.
Benefits of Sports Massage:
It is an essential part of Event Specific Training Plans where mileage increases e.g. Marathon, Triathlon or Adventure Races
Increases fitness capabilities and performance, it aids your recovery time and your flexibility
Prevents future injury by identifying and treating current muscle weakness, tiredness and any problem areas
Sports Massage should be used as a preventative tool to keep the body healthy
Post Event Massage clears out toxins and lactic acid from the muscles, it delays the onset of muscle soreness and enables a faster recover time than post event rest
It speeds up the healing of damage of overworked tissues or muscles which reduces recovery time and allows your to regain your health and performance - it repairs an injured muscle 5 / 6 times faster
It breaks down any adhesion's that restrict your normal range of motion
It lowers your risk of injury re-occurrence by preventing scar tissue and it also breaks down any existing scar tissue that you may have
---
​When Should You Have Massage?
If you are training or have some tightness or have some tenderness in a specific muscle. Most people find scheduling appointments on the lighter training days more beneficial. This is mainly because it enables the therapist to treat any specific muscular tightness allowing a couple of day's recovery before the long training session on Sundays.
Alternatively some athletes enjoy having the massage following their longer training session to allow them to maximize their training performances throughout the week.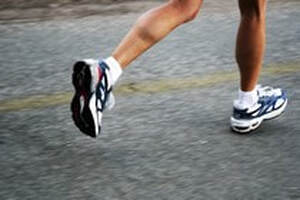 It is suggested that whilst people are training for events such as a triathlon, half or full marathon they receive weekly massages. It is especially important to have massage towards the build up to the longer training weeks, usually programmed about 4-6 weeks prior to the marathon or event. It is wise a few days before the event to have a massage to loosen up the muscles and relax the athlete as part of the final week preparations for the event.

Post Event Massage:
Sports Massage is also great after a big event .It is more valuable to receive massage as soon as possible following the event. As this helps to improve the recovery rate and reduces the intensity of delayed muscle soreness (DOMS) experienced 1-3 days post marathon or event. Main aim is to get you back out training or competing as soon as possible.

​The style of massage is different from those received before the event or in other treatment sessions as it is geared at aiding the lymphatic system in its attempt at waste removal and recovery. Therefore, the massage techniques are applied more gently and fluently. As micro damage to the muscle tissue occurs during longer runs and the marathon the massage will be lighter also.


IF YOU ARE SERIOUS ABOUT YOUR SPORT
Don't wait until you are injured to have a Sports Massage!
---