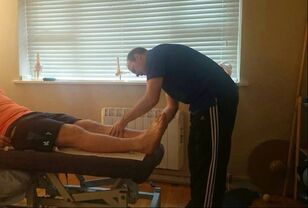 ​Pain and Injury Treatment

Physical Therapy is a form of complementary medicine which involves the assessment, treatment, rehabilitation and prevention of injuries and pain caused by musculoskeletal problems. Whether your pain or injury has come from sport, work or any other part of your life we provide accurate, assessment, comprehensive treatment and effective and lasting pain relief to help you recover in as short time as possible.

All manual treatments are medically based and consistent with current scientific principles. Manual treatments are a combination of neuromuscular, myofascial release, soft tissue work, joint mobilisations, massage with movement, sports massage, soft tissue release, muscle energy technique and stretching techniques. Electrotherapy (Shockwave Therapy,Ultrasound Therapy, Electrical Muscle Stimulation), Kinesio Taping, Orthopaedic Dry needling, prescriptive exercises and rehabilitative techniques, such as core exercises, will be used to address your injury in combination with manual treatments. A home exercise program is usually which not only treats the problem, but also helps to prevent a recurrence.
---
​

Services & Treatments

Musculoskeletal Conditions:

Headaches
Repetitive strains
Back pain
Whiplash
Elbow & shoulder pain
Hip & knee
Ankle sprain
Plantar fasciitis
Chronic pain
Fibromyalgia
Tennis & Golfers Elbow
Sports Injuries
Muscle tears & strains
Sprained ligaments
Groin strain
Runners knee / Jumpers knee
Achilles tendonitis
Shin splints
Much More...
Neurological Conditions:
Sciatica
Carpal Tunnel Syndrome
Trapped Nerves
Other:
Pre and post surgery treatment
Post surgery rehabilitation
Osteoarthritis
Rheumatoid Arthritis
Frequently Asked Question's:What to expect for your Treatment session:
I offer a professional, personal and confidential service designed to meet your specific condition. Individual treatment plans are specifically developed to suit you. I cater for all aspects of pain and injury management that can occur in your daily or sporting life as well as offering expertise in preventing and managing your injury.
At your first session i will take an extensive history, this is then followed by functional assessments and specific tests may be carried out. The history taking and functional assessments are essential in order for me to accurately diagnose the problem and your treatment plan will be based on the diagnosis.
The treatment is mainly hands on – sometimes Electro-therapy or Dry Needling may be used to assist with the
treatment, and therefore, allowing the client to receive a positive treatment helping the client get back to pre-injury status.
Follow up sessions involve more treatment and less assessments.
How Can I Help You ?
It starts with advice;
even minor sporting injuries can become chronic if not treated. Lack of good advice and treatment could mean a long absence from your sport or you may even have to give up the sport that you love. To the professional it could handicap a successful career or for the amateur hinder their performance.
You need to seek professional advice if you have an injury. All injuries need treatment to prevent scar tissue developing; once it develops you will have permanent damage. I will devise an individual program of treatment and rehabilitation based on your injury and your personal goals.
How long does a treatment take?
Treatments last approx 1 hr for first session then approximately 45 mins for follow up sessions
Will I be given home-care exercises?
Yes. We will always give advice on the management of conditions and appropriate exercises to do in between treatments to optimise the recovery process. Tailor made exercise sheets are also given for you to take home.
Do I need a GP referral?
No GP referrals are not necessary but if you have one, bring us a copy of the referral letter and any X-Ray, MRI's that you have. You can self-refer to physical therapy and we also accept referrals from GPs, Consultants, Public Health Nurses, complementary therapists and other healthcare providers. We would be more than happy to correspond with your GP/Consultant so that they are kept up to date of your progress with physical therapy.
What do i need to bring?
Please bring a list of any current medications and any scan results eg MRI with you to your first appointment.
Your therapist will need to expose the area affected; therefore you might be more comfortable in a pair of shorts for low back or leg issues. Ladies may also prefer to bring a vest top for an upper limb issue.
What about payment?
Unless there is a prior arrangement, payment must be made after each consultation. Receipts are given after each treatment for health insurance.
Do you know how many treatments I will need?
Whilst each patient is an individual, following your first appointment the your Therapist will discuss the anticipated number of treatments. You will be reassessed on each visit.
Will I be expected to do anything in between treatments?
Yes. But we cannot force you! We will always give advice on the management of conditions and appropriate exercises to do in between treatments to optimise the recovery process. Tailor made exercise programmes will be emailed to each patient.
For more information please contact Darren at our Galway Clinic on 086 1957378
​
---