Shockwave Therapy
What is extracorporeal radial shockwave therapy?
Extracorporeal Radial Shockwave Therapy is a series of high-energy percussions to the affected area. The shockwave uses mechanical (instead of electrical) high energy sound waves, which pass through the skin to the affected area. It is a safe treatment.
How does it work?
1) Treatment produces an inflammatory response. The body responds by increasing metabolic activity around the site of pain. This stimulates and accelerates the healing process. Desensitises the tendon
2) Shockwave breaks down scar tissue and possibly calcification as well
3) Transmission of pain is blocked
4) Helps facilitate rehab exercises.
​ When is shockwave used?
It is very effective on musculoskeletal disorders especially chronic tendinopathies such as Plantarfaciitis,Tennis Elbow and Achilles Tendonitis.We aim to resolve injuries using physical therapy and rehabilitation as the first line of treatment. However, sometimes pain still continues. Shockwave therapy is one of the next treatment options available. Shockwave is usually used on chronic conditions that have not been cured with other kinds of treatment. It is recommended when other treatment options have been unsuccessful. For best results it should be used with physical therapy and rehab exercises must be adhered to. Its not a quick fix.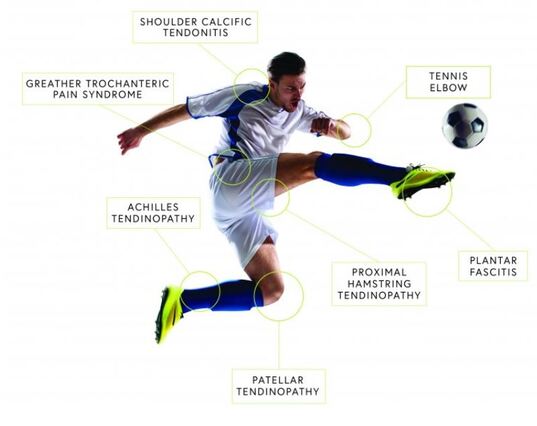 ​
What indications are Shockwave Therapy used to treat?
Plantar Fasciitis
Tennis elbow/golfers' elbow)
Plantar Fascia
Heel Spurs
Shoulder tendinopathies (Calcific Rotator Cuff Tendinitis)
Bursitis
Achilles Tendinopathy
Patellar tendinopathy (Jumpers Knee)
Greater Trochanteric Pain Syndrome
Trochanteric Bursitis
---
How long does the treatment last?
1000-3000 shocks are administered per session, which last approximately 5-10 minutes. Your therapist will administer your treatment based on best practice for individual conditions.
How many treatments will I need?
Normally three treatments are necessary at weekly intervals for acute issues; For chronic conditions it is recommended to undertake 3 to 4 sessions. There is a small possibility that additional treatments may be necessary if your condition is very chronic.It may take up to 3 months for maximal results to be achieved.
What are the side effects?

Complications do not normally happen with shockwave therapy. It is low risk treatment.
It can cause increased pain and sensitivity, up to 24 hours after treatment. which normally gets better with time.
Skin reddening
Swelling.
Bruising around the site of treatment.

The majority of these symptoms, if they occur, should get better with a couple of days.
When should I not have ESWT and when do I need to be careful about treatment? ESWT is NOT allowed if you:
When you are pregnant

Acute Injuries
Have had a steroid injection to the same area in the last three months
Have an infection, wound or tissue problems at the proposed treatment site
Have poor sensation (neuropathy) or hypersensitivity in the target area.
Over growth plates in younger persons

​Vascular/circulation disorder

You must tell the clinician if you:
Have a cardiac pacemaker
Taking any anti-coagulant (blood thinning) medication.
Taking any anti-inflammatory medication.
How can I prepare for ESWT?
You should stop taking non-steroidal anti-inflammatory drugs such as aspirin, 24 hours before ESWT treatment.
What should I do after treatment?
You can carry on with your usual activities but avoid any exercise which feels painful for two days (48 hours) after treatment.
Don't put ice on the treated area, or take any non-steroidal anti- inflammatory medication such as aspirin, ibuprofen or diclofenac, as this will stop the inflammatory and healing processes the shockwave treatment has started.
You may feel pain relief from the treatment straight away, but long-term effects are normally felt after three months.
What should I do if I am in pain after the treatment?
The shockwave will trigger an inflammatory response, which is the body's natural process of healing. For this reason, do not use anti-inflammatory medications. Do not use ice. The pain should subside within 24 hours.